 Low Cost Housing Website In Cebu

Futura Homes Mactan lowcost subdivision project is design for Pag-big/In-house financing in Lapu-lapu City area. It is affordable and cheap house and lot in Cebu for average earner Filipino family.

The acceptance of the LOI (Letter of Intent) was just started since last March 18, 2015. Reservation Fee is PhP 10,000.00 only and part of the contract price. The first model house to launch in Futara Homes subdivision is Bernice unit, a single attached bungalow house with One Bedroom, One Bathroom and Carport with a minimum Lot Area of 60 square meter, Floor Area of 28.29 square meter.
FUTURA HOMES MACTAN LOWCOST HOUSING SUBDIVISION CEBU

Suba-Basbas, Lapu-lapu City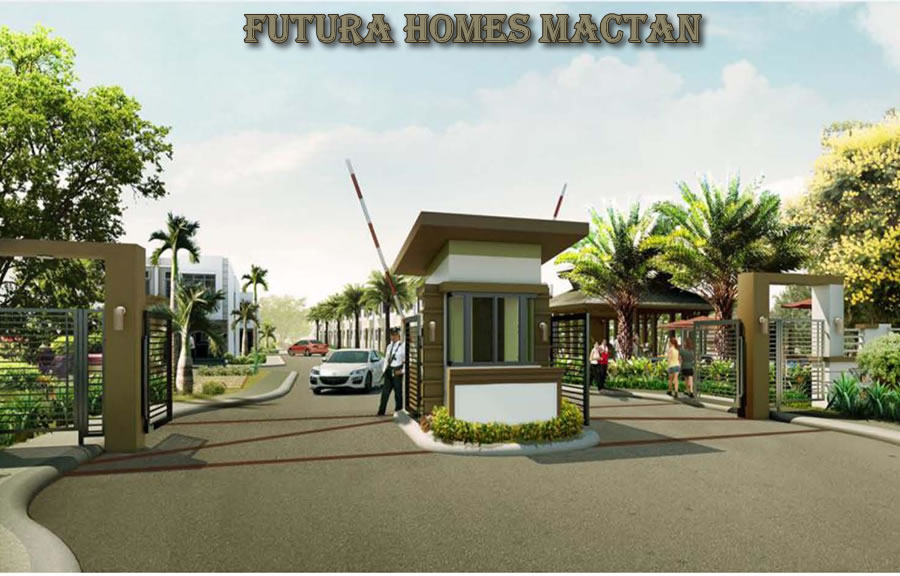 The first model house to launch in Futara Homes subdivision is Bernice unit, a single attached bungalow house with One Bedroom, One Bathroom and Carport with a minimum Lot Area of 60 square meter, Floor Area of 28.29 square meter. Total number of household is only 298 units.
We value your money and its worth while when choosing Futura Homes Mactan that realy suite your budget range and enjoy some recreational amenities are all in one to fulfill the dream that you were longing to achive.
A secure community, accessible to Mactans pristine beaches, resorts and key establishments such as Gaisano Grand Mactan, Gaisano Mall, Save More, Robinsons, Airport, Public Transportatin, Banks and Offices.
(1) Reservation Fee of Php 10,000.00 (Cash/Check),
(2) Filled-up PAF (Purchase Application Form) &
(3) 2 Valid ID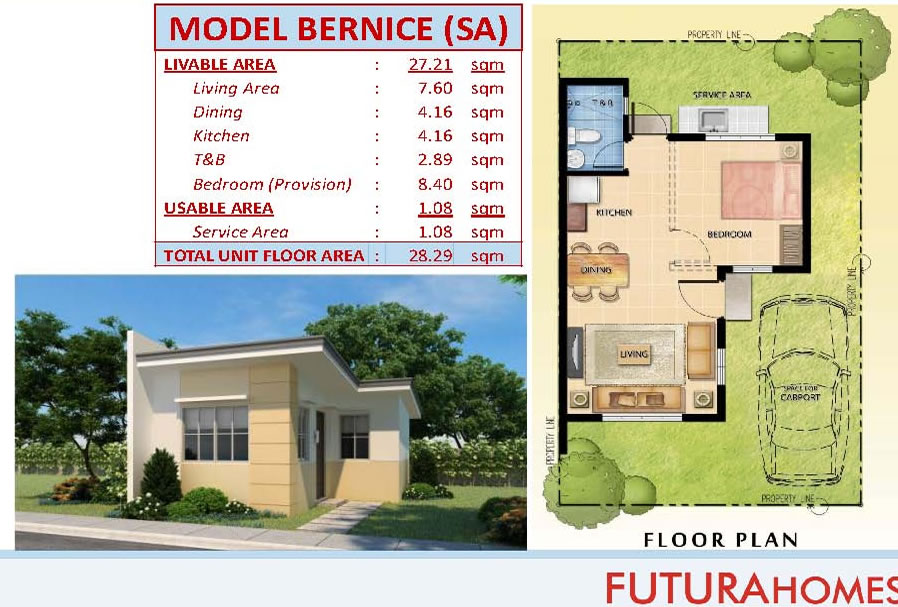 House Specification:
Model Bernice One-storey Single-attached Minimum Lot size = 6 x 10 = 60 sqm Floor area = 28.29
1 Bedroom,
1 Toilet & Bath
Living, Dining
Kitchen
with provision for Car Port Unit can be expanded only according to the plan to be given by Filinvest.
Road wide: 12 meters main road, 10 meters secondary, 8 meters for inner.

Payment Options:
1. Spot Cash 90/10 (with 8% discount, 10% retention)
2. Deferred Cash (Installment for 24 months with zero interest)
3. In-house Financing (20% DP payable in 12 months, 80% thru In-house Financing)
4. Bank or Pag-ibig Financing (10% DP in 12 months, 90% thru Bank or Pag-ibig)
Prices start at Php 1,040,000.00 exclusive of miscelleneous fee.
Reservation fee is only Php 10,000.00 ( non-refundable )
Estimated Monthy for the Downpayment is Php 7,833.33/mo. good for 12 months payment; Estimated Monthly for Pag-ibig is Php 6,217.80/mo. payable in 30 years @ 6.985% interest rate per annum with three years fixing and exclusive of insurances. We just started acceptance of the LOI (Letter of Intent) since last March 18, 2015.
FUTURA HOMES MACTAN SUBDIVISION
is being developed by a renowned Filinvest Land Inc. as the number one richest developer of entire Philippines for housing project. A very secured development for investment that really provide quality construction worksmanship for every unit delivery and the company will deliver ahead of time.


DISCLAIMER: Cebu Housing Website is not officialy sell yet FUTURA HOMES subdivision since the License To Sell of this project is still on the process and waiting for approval. However, the developer of this project Filinvest Land Inc., gave us all the marketing materials to help their company disclose to the public pertaining of the said project development somewhere else in Mactan area.
FOR INTERESTED CLIENT A LETTER OF INTENT WILL BE ACCEPTED!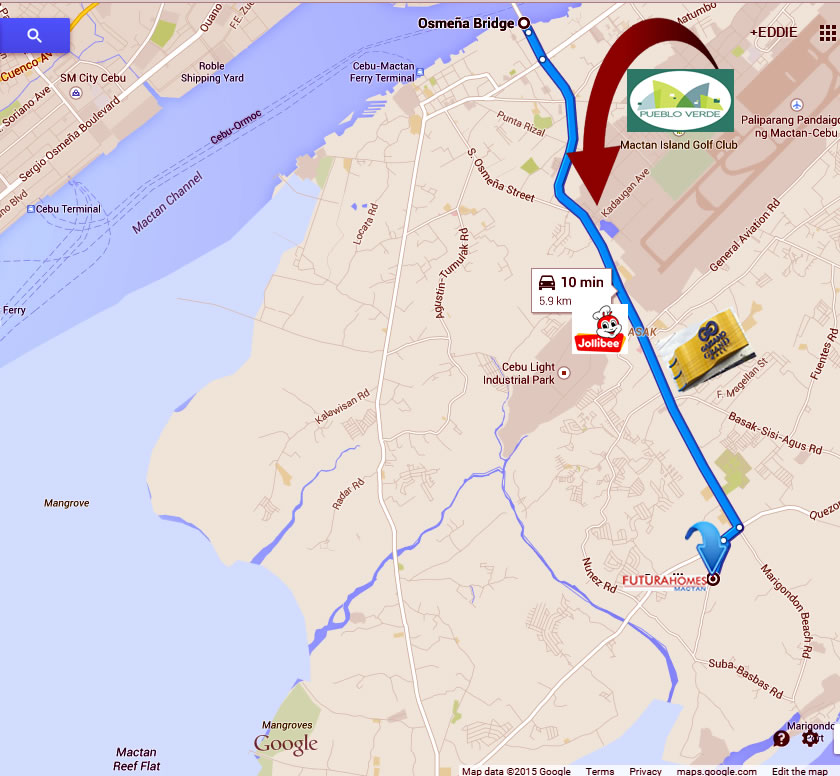 FOR MORE INFO AND AFFORDABLE HOUSING SEE MORE AT
Cebu house and lot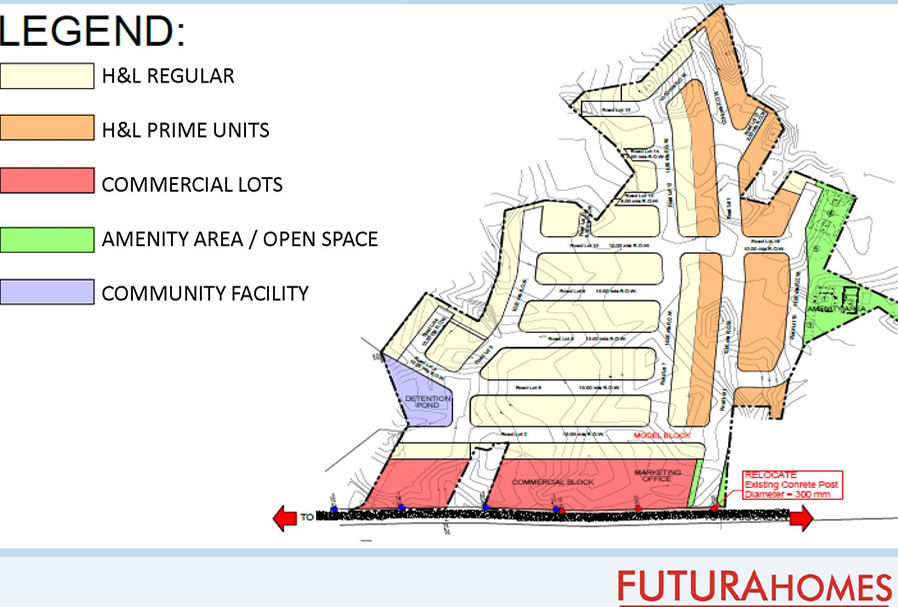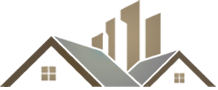 2016 - 2017 NEWEST WEBSITE POWERED BY CEBUHOUSING.NET
Copyright © 2016, Eddie Labiste, All Rights Reserved.
Powered By: www.cebuhousing.net
---
VERY IMPORTANT REMINDERS:
We have no rent to own house and lot for sale all over cebu and mactan area. If ever you are looking for a ready for occupancy housing and would like to occupy the house right away, be sure to have your allocated cash on hand approximately 100,000.00 to fully paid the equity and to pay the miscellaneous fee for the cheapest house and lot subdivision property in cebu/mactan.
In some cases that you don't have it yet, never do a savings and may buy property later. this is because the unit you were wishing to buy absolutely sold out already or the price became very high.
All developers in cebu would build a house once the equity/downpayment have been fully paid already first, together with loan guarantee approval.
I, your concerned agent suggest to prefer get now the pre-selling housing subdivision where are the equity payable in long terms of period, if you don't like renting a house with your entire life.

All pre-selling house and lot in cebu have the highest chances to increase their prices every quarter. if you can't decide now or earlier absolutely it's a buyer's plan disadvantages.

FOR MORE DETAILS VISIT: Cebu Housing Website
Disclaimer: All info, data, figure, price, discount & picture contained in this website are for representation or reference only. We reserve the right to correct any typographical errors. Just enjoy your search here and hopefully found the right properties for housing, condominium, beautiful & elegant homes in Cebu, Philippines!

I'M SELLING REAL ESTATE FOR 15 YEARS AGO AND ONE OF THE TOP SELLER IN CEBU. I GUARANTEE TO GIVE YOU THE BEST AND RIGHT PROPERTY WHEN YOU ALLOW ME TO HELP YOU!
FOR A DECIDED BUYER'S WITH BUDGET ONLY PLS. CALL/EMAIL ME NOW. SORRY BUT I DON'T REPLY TEXT:

MR. EDDIE LABISTE
Cellphone # 09072909834
Email Address: eddlab63@gmail.com

168 LAND REALTY & DEVELOPMENT CORPORATION
AUTHORIZING TO SELL CERTIFICATE OF REGISTRATION: HLURB-CVR-A-16-0254 )


"FOR FREE COMMON SITE TRIPPING VEHICLE THE BUYER MUST INFORM ME AT LEAST ONE DAY AHEAD (If the developer has a service vehicle). IF THE BUYER WOULD LIKE A PERSONAL TRIPPING BUT DON'T HAVE CAR, HE/SHE MIGHT PAY THE MINIMAL COST OF FUEL EXPENSES (to be refunded once will reserve a unit) FOR THE PRIVATE AND EXCLUSIVE SITE VIEWING."

NOTE:

We don't have rent to own housing in entire metro Cebu area. For READY FOR OCCUPANCY unit the buyer must able to fuilly paid the equity/downpayment and miscellaneous fee first together with loan approval guarantee prior moving in the unit.
The cheapest housing in Cebu with lower equity/downpayment approximately P40,000.00 is DECA HOMES BAYWALK 3, loacated in Talisay City, Cebu. Kindly click HERE!
FOR ALL CEBU PROPERTIES INFO JUST CLICK
HERE